Come creare il tuo DIVI Child
ed avere una tua personale copia.
Se sei arrivato sin qua, vuol dire che sai già perché vuoi creare il tuo DiVi Child.
Vediamo i principali motivi
il DiVi child è figlio del DiVi parent (madre o padre) per cui eredita tutte le funzionalità gli stili e contenuti.
E' una vostra creazione col nome del vostro sito  e il vostro nome di autore.
Preservare le modifiche apportate durante l'aggiornamento del tema principale. Ogni volta che DiVi fa degli aggiornamenti, tutti i file dei temi vengono aggiornati, quindi se hai apportato modifiche a questi file, tali modifiche verranno cancellate.
Prove online 
Ho provato diverse guide stamattina, disponibili online, testi, video, nessuna che ha funzionato. Ho provato un po' tutti i modi, quello manuale, via FTP e creando un file zip. Niente, alla fine ottenevo solo degli errori. Poi ho accantonato il discorso per aggiornarmi alla versione 7.3. Ho avuto un po di problemi iniziali, ma poi risolti e tutto fila molto più veloce di prima, se avete quindi anche voi un DIVi Elegant Theme aggiornatevi alla versione PHP 7.3.
Torniamo al DiVi Child, come dicevo ho provato diverse guide, ma nessuna ha funzionato. Ho avuto errori come manca l'header o il file index.php etcetera.
Poi sono incappato in questo video:
Come creare il tuo DIVI Child
E tutto ha funzionato alla perfezione. Seguite la guida, vi dice di collegarvi a questo sito
EMPKK Child Theme Maker
TOTALLY updated to be 100% compatible with Divi 3 and WordPress Customizer. This starter child theme will give you everything you need to make your very own child theme from scratch including Social Icons and you can even add your own if you read the readme.txt file within. Simply fill in all the fi…
e con la procedura automatica on line vi crea il vostro DiVi Child.
Fatto ciò noterete che le guide online sono obsolete o non aggiornate. Questo post vi farà risparmiare un sacco di tempo, quello che ho perso io stamattina.
Poi lo installate come se fosse un normale tema, et voilà. Senza copiare nient'altro avrete anche voi  il  DiVi Child uguale uguale al parent padre. Fantastico!
Giovanni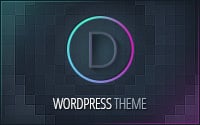 Hits: 317