Scam di ricatto a estorsione sessuale
Modello di email ricevuta
I'𝚖 𝚊𝚠𝚊𝚛𝚎, Italia90, 𝚒𝚜 𝚢𝚘𝚞𝚛 𝚙𝚊𝚜𝚜𝚠𝚘𝚛𝚍.

𝙸 𝚛𝚎𝚚𝚞𝚒𝚛𝚎 𝚢𝚘𝚞𝚛 𝚏𝚞𝚕𝚕 𝚊𝚝𝚝𝚎𝚗𝚝𝚒𝚘𝚗 𝚏𝚘𝚛 𝚝𝚑𝚎 𝚝𝚑𝚎 𝚗𝚎𝚡𝚝 𝚃𝚠𝚎𝚗𝚝𝚢-𝚏𝚘𝚞𝚛 𝚑𝚘𝚞𝚛𝚜, 𝚘𝚛 𝙸 𝚖𝚊𝚢 𝚖𝚊𝚔𝚎 𝚜𝚞𝚛𝚎 𝚢𝚘𝚞 𝚝𝚑𝚊𝚝 𝚢𝚘𝚞 𝚕𝚒𝚟𝚎 𝚘𝚞𝚝 𝚘𝚏 𝚜𝚑𝚊𝚖𝚎 𝚏𝚘𝚛 𝚝𝚑𝚎 𝚛𝚎𝚜𝚝 𝚘𝚏 𝚢𝚘𝚞𝚛 𝚕𝚒𝚏𝚎𝚝𝚒𝚖𝚎.

𝙷𝚎𝚕𝚕𝚘 𝚝𝚑𝚎𝚛𝚎, 𝚢𝚘𝚞 𝚍𝚘𝚗'𝚝 𝚔𝚗𝚘𝚠 𝚖𝚎. 𝙷𝚘𝚠𝚎𝚟𝚎𝚛 𝙸 𝚔𝚗𝚘𝚠 𝚎𝚟𝚎𝚛𝚢𝚝𝚑𝚒𝚗𝚐 𝚛𝚎𝚐𝚊𝚛𝚍𝚒𝚗𝚐 𝚢𝚘𝚞. 𝚈𝚘𝚞𝚛 𝚙𝚛𝚎𝚜𝚎𝚗𝚝 𝚏𝚊𝚌𝚎𝚋𝚘𝚘𝚔 𝚌𝚘𝚗𝚝𝚊𝚌𝚝 𝚕𝚒𝚜𝚝, 𝚖𝚘𝚋𝚒𝚕𝚎 𝚙𝚑𝚘𝚗𝚎 𝚌𝚘𝚗𝚝𝚊𝚌𝚝𝚜 𝚊𝚗𝚍 𝚊𝚕𝚕 𝚝𝚑𝚎 𝚟𝚒𝚛𝚝𝚞𝚊𝚕 𝚊𝚌𝚝𝚒𝚟𝚒𝚝𝚢 𝚘𝚗 𝚢𝚘𝚞𝚛 𝚌𝚘𝚖𝚙𝚞𝚝𝚎𝚛 𝚏𝚛𝚘𝚖 𝚙𝚛𝚎𝚟𝚒𝚘𝚞𝚜 𝟷𝟻𝟿 𝚍𝚊𝚢𝚜.

𝚆𝚑𝚒𝚌𝚑 𝚒𝚗𝚌𝚕𝚞𝚍𝚎𝚜, 𝚢𝚘𝚞𝚛 𝚜𝚎𝚕𝚏 𝚙𝚕𝚎𝚊𝚜𝚞𝚛𝚎 𝚟𝚒𝚍𝚎𝚘, 𝚠𝚑𝚒𝚌𝚑 𝚋𝚛𝚒𝚗𝚐𝚜 𝚖𝚎 𝚝𝚘 𝚝𝚑𝚎 𝚖𝚊𝚒𝚗 𝚛𝚎𝚊𝚜𝚘𝚗 𝚠𝚑𝚢 𝙸 𝚊𝚖 𝚠𝚛𝚒𝚝𝚒𝚗𝚐 𝚝𝚑𝚒𝚜 𝚎 𝚖𝚊𝚒𝚕 𝚝𝚘 𝚢𝚘𝚞.

𝚆𝚎𝚕𝚕 𝚝𝚑𝚎 𝚕𝚊𝚜𝚝 𝚝𝚒𝚖𝚎 𝚢𝚘𝚞 𝚠𝚎𝚗𝚝 𝚝𝚘 𝚜𝚎𝚎 𝚝𝚑𝚎 𝚊𝚍𝚞𝚕𝚝 𝚙𝚘𝚛𝚗 𝚘𝚗𝚕𝚒𝚗𝚎 𝚜𝚒𝚝𝚎𝚜, 𝚖𝚢 𝚜𝚙𝚢𝚠𝚊𝚛𝚎 𝚎𝚗𝚍𝚎𝚍 𝚞𝚙 𝚋𝚎𝚒𝚗𝚐 𝚝𝚛𝚒𝚐𝚐𝚎𝚛𝚎𝚍 𝚒𝚗𝚜𝚒𝚍𝚎 𝚢𝚘𝚞𝚛 𝚙𝚌 𝚠𝚑𝚒𝚌𝚑 𝚎𝚗𝚍𝚎𝚍 𝚞𝚙 𝚍𝚘𝚌𝚞𝚖𝚎𝚗𝚝𝚒𝚗𝚐 𝚊 𝚋𝚎𝚊𝚞𝚝𝚒𝚏𝚞𝚕 𝚏𝚘𝚘𝚝𝚊𝚐𝚎 𝚘𝚏 𝚢𝚘𝚞𝚛 𝚖𝚊𝚜𝚝𝚞𝚛𝚋𝚊𝚝𝚒𝚘𝚗 𝚙𝚕𝚊𝚢 𝚋𝚢 𝚊𝚌𝚝𝚒𝚟𝚊𝚝𝚒𝚗𝚐 𝚢𝚘𝚞𝚛 𝚠𝚎𝚋𝚌𝚊𝚖.
(𝚢𝚘𝚞 𝚐𝚘𝚝 𝚊 𝚎𝚡𝚌𝚎𝚙𝚝𝚒𝚘𝚗𝚊𝚕𝚕𝚢 𝚜𝚝𝚛𝚊𝚗𝚐𝚎 𝚙𝚛𝚎𝚏𝚎𝚛𝚎𝚗𝚌𝚎 𝚋𝚝𝚠 𝚕𝚘𝚕)

𝙸 𝚑𝚊𝚟𝚎 𝚐𝚘𝚝 𝚝𝚑𝚎 𝚏𝚞𝚕𝚕 𝚛𝚎𝚌𝚘𝚛𝚍𝚒𝚗𝚐. 𝙸𝚗 𝚝𝚑𝚎 𝚌𝚊𝚜𝚎 𝚢𝚘𝚞 𝚏𝚎𝚎𝚕 𝙸 𝚊𝚖 𝚖𝚎𝚜𝚜𝚒𝚗𝚐 𝚊𝚛𝚘𝚞𝚗𝚍, 𝚓𝚞𝚜𝚝 𝚛𝚎𝚙𝚕𝚢 𝚙𝚛𝚘𝚘𝚏 𝚊𝚗𝚍 𝙸 𝚠𝚒𝚕𝚕 𝚋𝚎 𝚏𝚘𝚛𝚠𝚊𝚛𝚍𝚒𝚗𝚐 𝚝𝚑𝚎 𝚙𝚊𝚛𝚝𝚒𝚌𝚞𝚕𝚊𝚛 𝚛𝚎𝚌𝚘𝚛𝚍𝚒𝚗𝚐 𝚛𝚊𝚗𝚍𝚘𝚖𝚕𝚢 𝚝𝚘 𝟷𝟷 𝚙𝚎𝚘𝚙𝚕𝚎 𝚢𝚘𝚞 𝚛𝚎𝚌𝚘𝚐𝚗𝚒𝚣𝚎.

𝙸𝚝 𝚖𝚒𝚐𝚑𝚝 𝚋𝚎 𝚢𝚘𝚞𝚛 𝚏𝚛𝚒𝚎𝚗𝚍, 𝚌𝚘 𝚠𝚘𝚛𝚔𝚎𝚛𝚜, 𝚋𝚘𝚜𝚜, 𝚙𝚊𝚛𝚎𝚗𝚝𝚜 (𝙸 𝚍𝚘𝚗'𝚝 𝚔𝚗𝚘𝚠! 𝙼𝚢 𝚜𝚢𝚜𝚝𝚎𝚖 𝚠𝚒𝚕𝚕 𝚛𝚊𝚗𝚍𝚘𝚖𝚕𝚢 𝚙𝚒𝚌𝚔 𝚝𝚑𝚎 𝚌𝚘𝚗𝚝𝚊𝚌𝚝 𝚍𝚎𝚝𝚊𝚒𝚕𝚜).

𝚆𝚒𝚕𝚕 𝚢𝚘𝚞 𝚋𝚎 𝚌𝚊𝚙𝚊𝚋𝚕𝚎 𝚝𝚘 𝚐𝚊𝚣𝚎 𝚒𝚗𝚝𝚘 𝚊𝚗𝚢𝚘𝚗𝚎'𝚜 𝚎𝚢𝚎𝚜 𝚊𝚐𝚊𝚒𝚗 𝚊𝚏𝚝𝚎𝚛 𝚒𝚝? 𝙸 𝚚𝚞𝚎𝚜𝚝𝚒𝚘𝚗 𝚝𝚑𝚊𝚝…

𝙽𝚘𝚗𝚎𝚝𝚑𝚎𝚕𝚎𝚜𝚜, 𝚒𝚝 𝚍𝚘𝚎𝚜 𝚗𝚘𝚝 𝚑𝚊𝚟𝚎 𝚝𝚘 𝚋𝚎 𝚝𝚑𝚊𝚝 𝚠𝚊𝚢.

𝙸'𝚖 𝚐𝚘𝚒𝚗𝚐 𝚝𝚘 𝚖𝚊𝚔𝚎 𝚢𝚘𝚞 𝚊 𝟷 𝚝𝚒𝚖𝚎, 𝚗𝚘𝚗 𝚗𝚎𝚐𝚘𝚝𝚒𝚊𝚋𝚕𝚎 𝚘𝚏𝚏𝚎𝚛.

𝙶𝚎𝚝 $ 𝟸𝟶𝟶𝟶 𝚒𝚗 𝚋𝚒𝚝𝚌𝚘𝚒𝚗 𝚊𝚗𝚍 𝚜𝚎𝚗𝚍 𝚒𝚝 𝚘𝚗 𝚝𝚑𝚎 𝚕𝚒𝚜𝚝𝚎𝚍 𝚋𝚎𝚕𝚘𝚠 𝚊𝚍𝚍𝚛𝚎𝚜𝚜:

19NAjy7RQUGv9pdHcwyk*xxeYH87BNvK55n
[𝙲𝙰𝚂𝙴 𝚜𝚎𝚗𝚜𝚒𝚝𝚒𝚟𝚎 𝚜𝚘 𝚌𝚘𝚙𝚢 𝚊𝚗𝚍 𝚙𝚊𝚜𝚝𝚎 𝚒𝚝, 𝚊𝚗𝚍 𝚛𝚎𝚖𝚘𝚟𝚎 * 𝚏𝚛𝚘𝚖 𝚒𝚝]

(𝙸𝚏 𝚢𝚘𝚞 𝚍𝚘𝚗'𝚝 𝚔𝚗𝚘𝚠 𝚑𝚘𝚠, 𝚕𝚘𝚘𝚔 𝚘𝚗𝚕𝚒𝚗𝚎 𝚑𝚘𝚠 𝚝𝚘 𝚋𝚞𝚢 𝚋𝚒𝚝𝚌𝚘𝚒𝚗. 𝙳𝚘 𝚗𝚘𝚝 𝚠𝚊𝚜𝚝𝚎 𝚖𝚢 𝚟𝚊𝚕𝚞𝚊𝚋𝚕𝚎 𝚝𝚒𝚖𝚎)

𝙸𝚏 𝚢𝚘𝚞 𝚜𝚎𝚗𝚍 𝚘𝚞𝚝 𝚝𝚑𝚒𝚜 𝚙𝚊𝚛𝚝𝚒𝚌𝚞𝚕𝚊𝚛 '𝚍𝚘𝚗𝚊𝚝𝚒𝚘𝚗' (𝚠𝚑𝚢 𝚍𝚘𝚗'𝚝 𝚠𝚎 𝚌𝚊𝚕𝚕 𝚝𝚑𝚒𝚜 𝚝𝚑𝚊𝚝?). 𝙰𝚏𝚝𝚎𝚛 𝚝𝚑𝚊𝚝, 𝙸 𝚠𝚒𝚕𝚕 𝚐𝚘 𝚊𝚠𝚊𝚢 𝚊𝚗𝚍 𝚞𝚗𝚍𝚎𝚛 𝚗𝚘 𝚌𝚒𝚛𝚌𝚞𝚖𝚜𝚝𝚊𝚗𝚌𝚎𝚜 𝚐𝚎𝚝 𝚒𝚗 𝚝𝚘𝚞𝚌𝚑 𝚠𝚒𝚝𝚑 𝚢𝚘𝚞 𝚊𝚐𝚊𝚒𝚗. 𝙸 𝚠𝚒𝚕𝚕 𝚐𝚎𝚝 𝚛𝚒𝚍 𝚘𝚏 𝚎𝚟𝚎𝚛𝚢𝚝𝚑𝚒𝚗𝚐 𝙸 𝚑𝚊𝚟𝚎 𝚐𝚘𝚝 𝚊𝚋𝚘𝚞𝚝 𝚢𝚘𝚞. 𝚈𝚘𝚞 𝚖𝚊𝚢 𝚟𝚎𝚛𝚢 𝚠𝚎𝚕𝚕 𝚔𝚎𝚎𝚙 𝚘𝚗 𝚕𝚒𝚟𝚒𝚗𝚐 𝚢𝚘𝚞𝚛 𝚌𝚞𝚛𝚛𝚎𝚗𝚝 𝚛𝚎𝚐𝚞𝚕𝚊𝚛 𝚍𝚊𝚢 𝚝𝚘 𝚍𝚊𝚢 𝚕𝚒𝚏𝚎𝚜𝚝𝚢𝚕𝚎 𝚠𝚒𝚝𝚑 𝚊𝚋𝚜𝚘𝚕𝚞𝚝𝚎𝚕𝚢 𝚗𝚘 𝚜𝚝𝚛𝚎𝚜𝚜.

𝚈𝚘𝚞 𝚑𝚊𝚟𝚎 𝚐𝚘𝚝 𝟷 𝚍𝚊𝚢 𝚝𝚘 𝚍𝚘 𝚜𝚘. 𝚈𝚘𝚞𝚛 𝚝𝚒𝚖𝚎 𝚠𝚒𝚕𝚕 𝚜𝚝𝚊𝚛𝚝 𝚊𝚜 𝚜𝚘𝚘𝚗 𝚢𝚘𝚞 𝚛𝚎𝚊𝚍 𝚝𝚑𝚛𝚘𝚞𝚐𝚑 𝚝𝚑𝚒𝚜 𝚎 𝚖𝚊𝚒𝚕. 𝙸 𝚑𝚊𝚟𝚎 𝚊𝚗 𝚘𝚗𝚎 𝚘𝚏 𝚊 𝚔𝚒𝚗𝚍 𝚙𝚛𝚘𝚐𝚛𝚊𝚖 𝚌𝚘𝚍𝚎 𝚝𝚑𝚊𝚝 𝚠𝚒𝚕𝚕 𝚗𝚘𝚝𝚒𝚏𝚢 𝚖𝚎 𝚊𝚜 𝚜𝚘𝚘𝚗 𝚊𝚜 𝚢𝚘𝚞 𝚐𝚘 𝚝𝚑𝚛𝚘𝚞𝚐𝚑 𝚝𝚑𝚒𝚜 𝚎𝚖𝚊𝚒𝚕 𝚝𝚑𝚎𝚛𝚎𝚏𝚘𝚛𝚎 𝚍𝚘 𝚗𝚘𝚝 𝚝𝚛𝚢 𝚝𝚘 𝚊𝚌𝚝 𝚜𝚖𝚊𝚛𝚝.
Come funziona?
Avete ricevuto recentemente un'email che vi ricatta? Perché reclama di avere delle foto di voi mentre vi masturbate guardando siti porno? Avete un laptop con una videocamera d fronte a voi? E per caso avete visitato dei siti porno recentemente?
Se rispondete a tutte queste domande con dei si, la buona notizia è –> NON VI PREOCCUPATE! E non cedete al ricatto!!
Ma la prima domanda che sovviene è: come fanno gli hackers ad avere una nostra password? Beh la risposta è semplice, perchè come avrete ogni tanto sentito dalle notizie succede che qualche sito famoso sia stato hackerizzato.
E quindi gli Hackers fraudolenti usano queste informazioni per cercare di ottenere denaro in tutti i modi possbili.
Se ricevete questa email, al 99% la vostra password ultilizzata in quei siti è diventata nota agli Hackers. Per avere conferma di ciò vi collegate a questo sito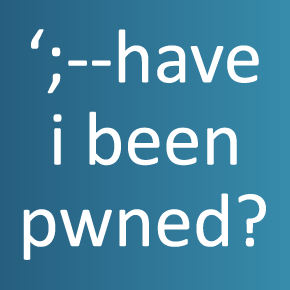 Have I Been Pwned: Check if your email has been compromised in a data breach
Have I Been Pwned allows you to search across multiple data breaches to see if your email address has been compromised.
di cui vi lascio il link. Digitate la vostra email e verrà fuori tutta una lista di siti dove i dati sono stati compromessi e di conseguenza anche la vostra email e password.
What does it mean to be pwned?
Pwned, in this context, simply means that your account has been the victim of a data breach. The word itself takes its name from player-to-player messaging in online computer gaming. When one player is defeated, another might type out a message to say 'You've been owned'.
Cosa significa essere beccato?
Pwned, in questo contesto, significa semplicemente che il tuo account è stato vittima di una violazione dei dati. La parola stessa prende il nome dalla messaggistica da giocatore a giocatore nei giochi per computer online. Quando un giocatore viene sconfitto, un altro potrebbe scrivere un messaggio per dire "Sei stato posseduto".
L'hacker ultilizza queste informazioni, solitamente email e relativa pwd per lanciare migliaia di email con script automatizzati sperando che qualcuno cada nello scam.
Il malcapitato al ricevimento di questa email può avere un attacco di cuore hahaah, perchè appunto ha risposto si a tutte le domande iniziali soprattutto se ha visitato recentemente un sito porno!
Quando l'attacco emotivo di panico viene superato e si ritorna ad una naturale razionalità, ben presto s'intuisce che lo scam è tutto una bufala!
Per esser certi di cio vi collegate al sito di cui soppra e controllate se siete stati pawned.
Precauzioni
Cambiare spesso password soprattutto per i siti sensibili.
Usare programmi antivirus e spyware nonchè una VPN quando si va online.
Sebbene sia difficile aprire la telecamera di laptop di altri in remoto ma possibile, quando si visitano siti porno coprire la telecamera di fronte con una pezza di scotch.
Mi auguro con questa email di aver fatto chiarezza!
Ciao
Giovanni, Metro Manila
Hits: 36